Letter of Recommendation-Bob Blazewicz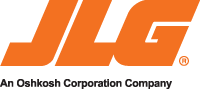 Bob Blazewicz of  2B-Quality was contracted to teach a course on basic Geometric Dimensioning and Tolerancing from the ASME Y14.5-1994 Standard to a group of JLG Engineering Team members. The four day, twenty-four hour course was taught in January 2002 and was well received by our Team members.
Bob's knowledge of the Standard and his Engineering background allow him to present and teach the material in a way that communicates the practical application of this Standard. Our Team members were very complimentary of Bob's teaching skills. Some of those compliments are included below.
"I found Bob Blazewicz teaching, on a very technical subject, easy to understand and very informative. Bob's teaching style and methods enabled him to maintain everyone's attention and involvement. The consensus of those who attended the training on "GD&T" was that this was one of the best, if not the best, training session we've ever had."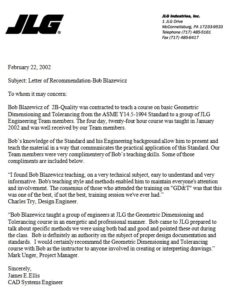 Bob takes pride in his work and consistently over-delivers when training and consulting.