Letter of Recommendation for Bob Blazewicz


Over the last 6 months Bob Blazewicz was contracted to provide in-house training Geometric Dimensioning and Tolerancing according to ASME Y14.5-1994. Six separate classes have been taught that were attended by over 100 people. Although for years we had been using GD&T, we quickly found that the expertise that Bob brought to the class, gave us an enormous advantage.
Bob's concise use of language, and real life parts, illustrate the material being taught and make the class enjoyable and ensure all students were able to comprehend the material being presented.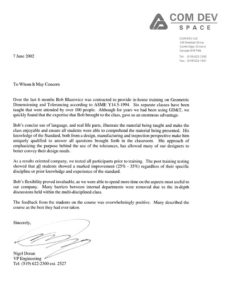 Bob takes pride in his work and consistently over-delivers when training and consulting.