Letter of Recommendation for Bob Blazewicz


Bob Blazewicz delivered a four day training class on Geometric Dimensioning and Tolerancing to 12 Behr America Engineering employees in March/April 2003. We were extremely pleased with the quality of his instruction and would recommend his services as a trainer.
Bob was very flexible during the scheduling process and willing to accommodate our needs for timing of the class. He was very responsive to requests for information and followed through on all of his commitments to us in a timely manner.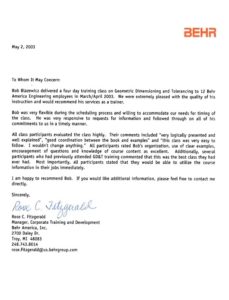 Bob takes pride in his work and consistently over-delivers when training and consulting.